CLAVIUS Automatik 44 mm von BOTTA
Raum für Ihre Zeit
Schwarz. Wie Lichtpfeile umkreisen Minuten- und Stundenzeiger auf ihren Umlaufbahnen scheinbar schwerelos das Uhrzentrum. Ein Sekundenzeiger taucht jede Sekunde auf, um direkt wieder zu verschwinden und erneut zu erscheinen. Die Super-LumiNova® auf den drei Zeigern lässt diesen Effekt auch eindrucksvoll bei Dunkelheit erscheinen.
Das ist die Faszination CLAVIUS. Der Clou: Ihr Antrieb ist ein analoges Automatikwerk. Entdecken Sie eine Uhr, wie es wohl keine zweite gibt. Für alle, die Zeit auf Ihre ganz eigene Weise gestalten.
Konsequent anders
Die CLAVIUS ist eine Dreizeigeruhr und doch alles andere als gewöhnlich. Was sie so besonders macht, ist ihr Design. Lediglich Ihre Zeigerspitzen sind sichtbar. Ihr "digitaler" Sekundenzeiger springt von Fenster zu Fenster.
Die außergewöhnliche Anzeige der CLAVIUS kleidet sich in ein Edelstahlgehäuse mit klarer Architektur. Dieses bietet durch seine raffinierte Formgebung einen hohen Tragekomfort. Die abgeschrägten Flanken an der Unterseite sorgen für eine angenehm großzügige Bewegungsfreiheit für das Handgelenk. Das Uhrenglas ist aus doppelt gewölbtem und beidseitig entspiegeltem Saphirglas gefertigt und damit besonders kratzfest und brillant. Ebenfalls aus Saphirglas ist der Boden, der den Blick auf das adäquat veredelte Automatikwerk freigibt.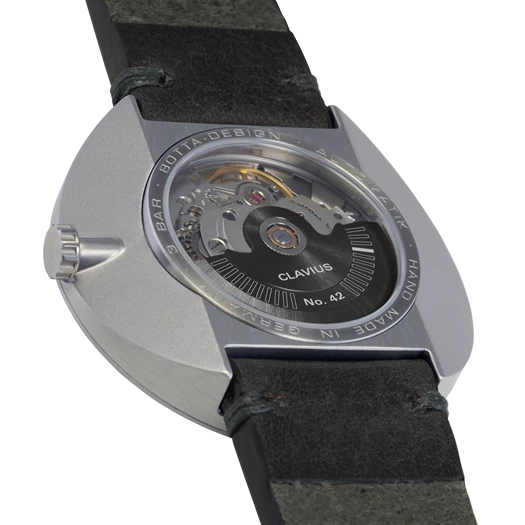 Digitale Ästhetik trifft feinste Mechanik
Die CLAVIUS verbindet in einzigartiger Weise digitale Ästhetik mit der faszinierenden Feinmechanik eines Automatikwerkes. Ein automatisches Werk vom Schweizer Premiumhersteller Sellita sorgt für einen zuverlässigen Lauf dieser unkonventionellen Armbanduhr. Das Werk wird von einem Uhrmachermeister nochmals von Hand auf maximale Ganggenauigkeit einreguliert. Die CLAVIUS ist dadurch nicht nur ein außergewöhnlicher, sondern auch ein besonders zuverlässiger Zeitmesser fürs Handgelenk.
Uhrenarmbänder
Kein Accessoire beeinflusst den Stil einer Uhr so maßgeblich wie ihr Armband. Ob elegantes Milanaiseband, sportliches Kautschukband oder klassisches Lederband – bei all unseren Bändern haben wir den gleichen hohen Anspruch an Design und Qualität wie bei unseren Uhren selbst.
Entdecken Sie die erlesene Auswahl hochwertiger BOTTA-Bänder und verleihen Sie Ihrer Uhr einen ganz individuellen Charakter
Mehr erfahren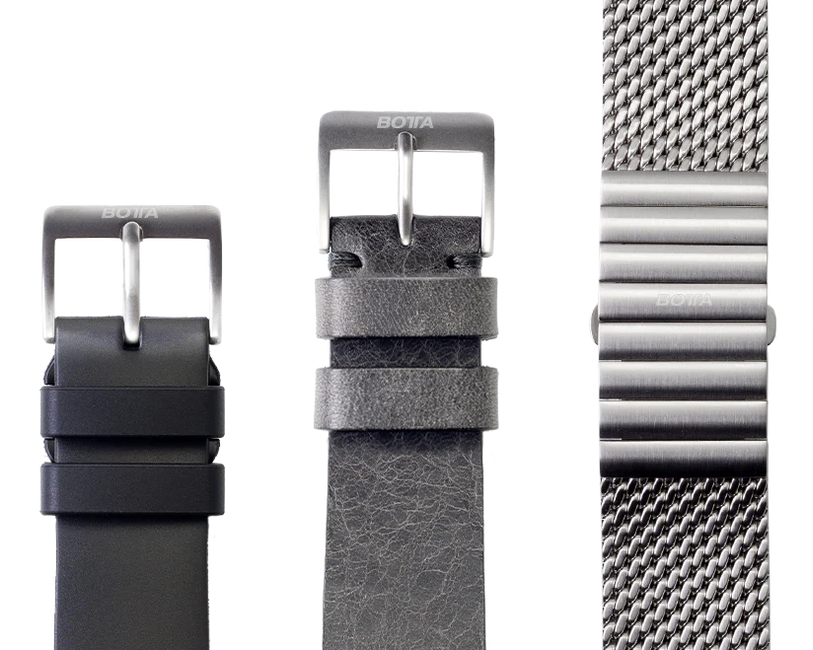 Technical data
| | |
| --- | --- |
| Durchmesser | 44 mm |
| Lug-To-Lug | 33,7 mm |
| Höhe | 9,1 mm |
| Gewicht | 55,6 g (ohne Band) |
| Werktyp | Automatik, Sellita SW 200-1 elaboré Swiss Made, manuell auf höhere Ganggenauigkeit einreguliert |
| Datum | Nein |
| Gehäusematerial | Edelstahl |
| Glasart | Double-Domed Saphire crystal |
| Water resistant | 5 ATM |
| Strap | Lederband | Kautschukband | Sattellederband | Milanaiseband | Edelstahlband |
| Features | Mehrzeigeruhr mit sequenzieller Sekundenanzeige | Zeiger mit Super-LumiNova |
| Country of production | Germany |
| Warranty | 2 Jahre außer auf Verschleißteile oder unsachgemäße Behandlung. |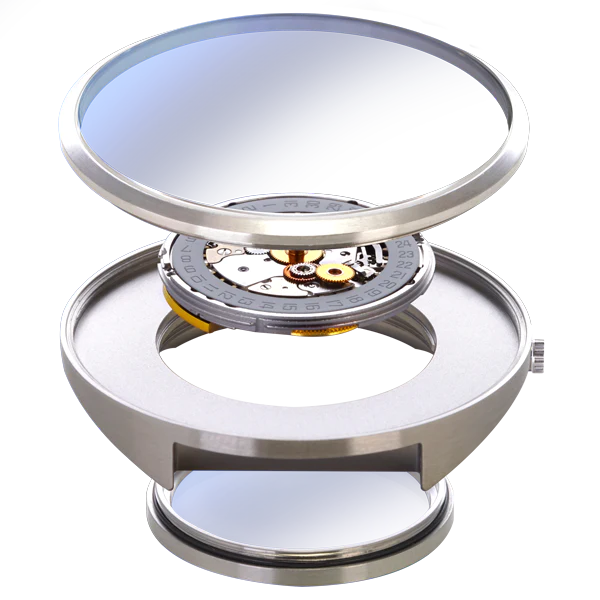 How to set your watch correctly
Hier können Sie sich eine anschauliche Schritt-für Schritt-Anleitung zum genauen Einstellen Ihrer Botta-Armbanduhr herunterladen. Je nach Funktionsumfang der jeweiligen Uhr unterscheiden sich die Einstellmöglichkeiten teilweise erheblich. Die jeweils passende Anleitung finden Sie bei jedem einzelnen Modell immer unter dem Kapitel "Uhr richtig einstellen". Sollten doch noch Fragen offen bleiben, können Sie gerne auch direkt bei uns anrufen.
Print out your own model
You can download a realistic cut-out model of this watch in PDF format here and print it out. You can then cut out the 1:1 paper model and place it on your wrist like a real watch. The model will give you a realistic impression of the size of the watch and how it will look on your wrist. For best results, use a good-quality colour printer and stable glossy paper. Enjoy trying on the "watch"!
Secure purchasing
from BOTTA
30 days
exchange or return period

Two-year
warranty

Free
shipping
from 100€

Buy directly
from the producer

36 years of
experience